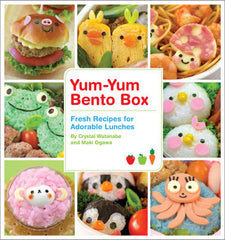 Yum-Yum Bento Box
Fresh Recipes for Adorable Lunches
$ 15.00
By Crystal Watanabe and Maki Ogawa
Oh, boy — obento! These cute, yummy, healthy lunches are all the rage in Japan, where mothers think of them as an expression of love for their children. Yum-Yum Bento Box is one of the first cookbooks in English devoted to these healthy and adorable meals — they're fresh, they're tasty, and they're almost too cute to eat!
Each step-by-step recipe in Yum-Yum Bento Box is simple and adaptable. Readers will learn how to form their favorite foods into a variety of shapes—from zebras, panda bears, and monkeys to kitties, piggies, and puppy dogs. Chapters include instructions for classic bento boxes and character-driven bentos (called Kyaraben), plus shopping advice, general tips and tricks, and much more. Stop wasting money on prepackaged lunches — and start making beautiful, healthy bentos!
Crystal Watanabe makes bento boxes for her two preschool-aged children; her Web site "Adventures in Bento Making" is a popular forum for bento makers worldwide.
Maki Ogawa is a mother whose bentos have been featured in many Asian magazines. She lives in Japan.
Measures 7-1/2 x 8 inches; 144 pp