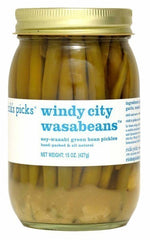 Windy City Wasabeans
soy-wasabi green bean pickles
$ 10.50
In these addictively crispy, pickled green beans, the great wasabi flavor is transformed into a subtle smokiness. Wasabeans are irresistible as a healthy snack or hors d'oeuvre, and dynamite in a salad. Use the brine to marinate chicken or tofu, or add it to a stir-fry. Windy City Wasabeans have twice won Best in Show at the Rosendale International Pickle Festival.
What's inside:
green beans · vinegar · water · soy sauce · garlic · wasabi powder · ginger · peppercorns · dried chiles
Unique, creative, and incredibly flavorful, Rick's Picks are made in small batches with seasonal ingredients, resulting in nicely balanced pickles with a modern twist.