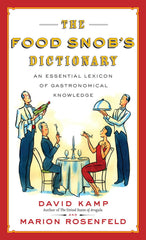 The Food Snob's Dictionary
An Essential Lexicon of Gastronomical Knowledge
$ 12.00
Food Snob n: reference term for the sort of food obsessive for whom the actual joy of eating and cooking is but a side dish to the accumulation of arcane knowledge about these subjects.
Open a menu and there they are, those confusing references to grass-fed beef, farmstead blue cheese, and dry-farmed fruits. It doesn't help that your dinner companions have moved on to such heady topics as the future of the organic movement, or the seminal culinary contributions of Elizabeth Drew and Fernand Point. David Kamp explains it all and more in The Food Snob's Dictionary, a delectable compendium of food facts, terminology, and famous names that gives ordinary folk the wherewithal to take down the Food Snobs — or join their zealous ranks.
Both entertaining and authentically informative, The Food Snob's Dictionary travels through the alphabet explaining the buzz-terms that fuel the food-obsessed, from Affinage to Zest, with stops along the way for Cardoons, Fennel Pollen, and Sous-Vide, all served up with a huge and welcome dollop of wit.