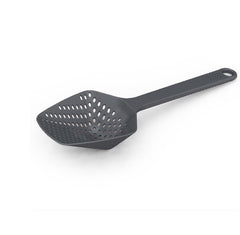 Small Grey Scoop Colander
$ 7.00
This simple kitchen utensil allows you to quickly and efficiently scoop and drain food straight from a pan or oven dish. It eliminates the need to drain hot liquids from heavy pots before removing food. The toughened nylon is suitable for use with nonstick cookware and heat resistant up to 480°F, making it a useful accessory when deep-frying.
Measures 11.75 x 4 x 1.75 inches
Dishwasher safe
Also available in Green or Red
Specializing in contemporary kitchenware, Joseph Joseph designs some of the most stylish and technically innovative products available. Form and function... you can have them both!