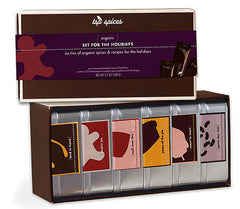 Set for the Holidays
$ 33.00
Set for the Holidays contains one tin each of Bird in Hand, Cookie Jar, Game Day Chili, Mull over This, Peace of Pie, and Roast to Toast assortments. There are a total of 20 recipes and 19 different organic spices, making up 72 one-teaspoon packets all together.
If you boat, if you beach, if you camp, if you eat....
Super convenient TSP Spices promise vibrant tastes of organic herbs and spices, portioned in small amounts to always be fresh while being beautifully packaged to boot.