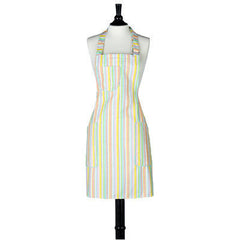 Seersucker Stripe Chef's Apron
$ 30.00
Sold out?! Say it ain't so!
Heirloom quality Designer Hostess Apron constructed from a fine lightweight cotton for that vintage drape and feel. Overall-style slide at neck and long ties at waist for easy adjusting. Three pockets makes this apron appropriate for not just cooking, but for any potentially messy activity!
Apron measures 33 × 30 inches, excluding neck strap and ties
Top Strap Length: Adjustable 25.5 inches
Side Strap Length: 28 inches per side
Also available in a matching Children's version
Influenced by the nostalgic charm of a bygone era, Jessie Steele's retro-chic hostess aprons make a flirty, feminine statement both in and out of the kitchen.