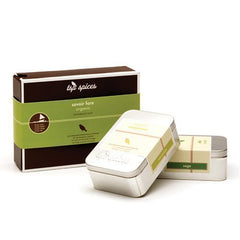 Savoir Fare
$ 12.75
For knowing cooks, marjoram and sage are a deliciously compatible pair. Team them up to season a bread stuffing or pork sausage. Try them separately to flavor meatloafs, soups, or bean dishes. Continental chefs have long savored both of these herbs. Now it's your turn. Bon appetit!
What's inside:
tin of organic marjoram · tin of organic sage
Each tin contains 12 one-teaspoon packets.
If you boat, if you beach, if you camp, if you eat....
Super convenient TSP Spices promise vibrant tastes of organic herbs and spices, portioned in small amounts to always be fresh while being beautifully packaged to boot.