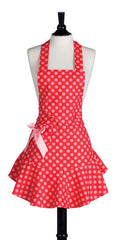 Red & Pink Polka Dot Josephine Apron
$ 30.00
It's virtually impossible not to feel feminine and flirty while wearing the Red & Pink Polka Dot Josephine Apron. Constructed from a fine, lightweight cotton, the apron features neck and waist ties for easy adjusting, as well as a convenient waist pocket adorned — or not, you decide — with a removable grosgrain bow. Pretty in pink, indeed!
Apron measures 30 × 27 inches, excluding ties
Top Strap Length: 26.5 inches per side
Side Strap Length: 27 inches per side
Also available in a matching Children's version
Influenced by the nostalgic charm of a bygone era, Jessie Steele's retro-chic hostess aprons make a flirty, feminine statement both in and out of the kitchen.