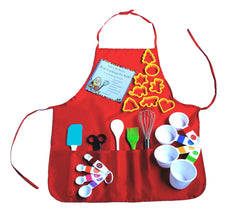 Playful Chef Baking Set with Red Apron
$ 20.00
Playful Chef Cooking Kits provide hours of interactive family fun that will help your kids learn valuable life skills and build healthy eating habits that will last a lifetime! Armed with 21 kid-sized tools and accessories tucked into the red tool belt apron, children will be ready to tackle the six included recipes: Pancakes, Chicken Nuggets, Pita Pizza, Honey Yogurt Dip, Fruit Smoothies, and Sugar Cookies.
What's inside:
stainless steel whisk · wooden spoon · pair of safety scissors · silicone pastry brush · silicone spatula · 4 color-coded measuring cups · 4 color-coded measuring spoons · adjustable tool belt apron · 8 plastic cookie cutters · recipe booklet
Apron measures 23 inches tall and 20 inches wide
For ages 5 and up
Also available with a Pink Apron
Playful Life creates opportunities for parents to help kids build confidence, connect with family and friends, and learn fundamental skills. Build healthy eating habits for life!