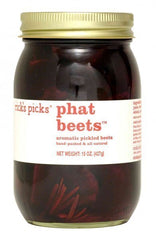 Phat Beets
aromatic pickled beets
$ 10.00
Phat Beets are Rick's most popular pickle. Aromatic spices accent the sweet-tart flavor of these fresh pickled beet slices and have won over even stubborn beet skeptics. Pickled in rosemary, ginger and lemon, they're perfect with fresh goat cheese on a cracker or in a salad, and an excellent source of fiber, iron, and vitamin B. Phat Beets were named Outstanding Appetizer at the 2007 Fancy Food Show.
What's inside:
beets · cider vinegar · water · onion · lemon juice · brown sugar · ginger · rosemary · allspice · cinnamon sticks · cloves
Unique, creative, and incredibly flavorful, Rick's Picks are made in small batches with seasonal ingredients, resulting in nicely balanced pickles with a modern twist.