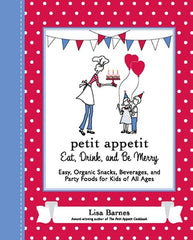 Petit Appetit: Eat, Drink, and Be Merry
Easy, Organic Snacks, Beverages, and Party Foods for Kids of All Ages
$ 18.00
By Lisa Barnes
As kids get older, parents get busier, and they all need simple, creative, healthy ideas and recipes for school lunches, snacks, drinks and the seemingly endless round of parties, playdates, and special occasions. Enter Petit Appetit: Eat, Drink, and Be Merry. These nutritious, organic, and easy-to-prepare snacks, drinks, and celebration foods are the perfect alternative to processed store-bought items laden with high fructose corn syrup, trans fats, additives, and preservatives. Chef and mother Lisa Barnes' simple, delicious recipes enable parents to think "outside the bag" (of processed chips, crackers, and cookies) and learn how to create new family favorites with healthy, organic ingredients.
What's inside:
Expert advice, tips, and stories
Nutritional, dietary, and allergy information throughout
Best methods for packing and storage
More than 150 recipes
Signed by the author!
288 pages
Softcover - 7-1/2 x 9 inches
Published March, 2009