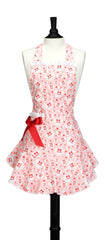 I Love You Valentine Josephine Apron
$ 30.00
Will you be my Valentine? With its flirty ruffle hem and (removable) pocket bow detail, the I Love You Valentine Josephine Apron is hearts and kisses apronified. Constructed from a fine, lightweight cotton, the apron features neck and waist ties for easy adjusting, as well as a convenient waist pocket.
Apron measures 30 × 27 inches, excluding ties
Top Strap Length: 26.5 inches per side
Side Strap Length: 27 inches per side
Influenced by the nostalgic charm of a bygone era, Jessie Steele's retro-chic hostess aprons make a flirty, feminine statement both in and out of the kitchen.