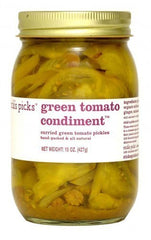 Green Tomato Condiment
curried green tomato pickles
$ 9.00
Our Green Tomato Condiment are sweet and savory sliced green tomato pickles. They are the perfect accompaniment to a cheeseburger, sausage or hot dog — a real crowd pleaser at bbqs. Our restaurant friends use them to dress up their panini and sandwiches. These pickles were named one of Saveur magazine's 100 favorite things about food. Try them on a toothpick with cheddar cheese for a delicious morsel!
What's inside:
green tomatoes · cider vinegar · onion · golden raisins · brown sugar · curry · tumeric · dry mustard · ginger · cinnamon · allspice
Unique, creative, and incredibly flavorful, Rick's Picks are made in small batches with seasonal ingredients, resulting in nicely balanced pickles with a modern twist.