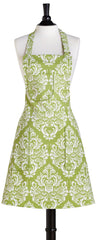 Green & Cream Damask Chef's Apron
$ 30.00
Set the tone at your springtime soirée with the Green & Cream Damask Chef's Apron. Constructed from a durable, heavyweight cotton, the apron features an adjustable length neck strap and ties at the waist, as well as convenient pockets aplenty — one front-and-center on the chest plus two roomy side pockets.
Apron measures 36 × 27 inches, excluding neck strap and ties
Bib measures 10 inches across
Top Strap Length: Adjustable 25.5 inches
Side Strap Length: 28 inches per side
Influenced by the nostalgic charm of a bygone era, Jessie Steele's retro-chic hostess aprons make a flirty, feminine statement both in and out of the kitchen.