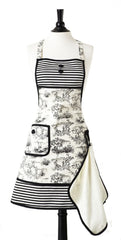 French Toile Gigi Apron with Terry Towel
$ 30.00
With a print that's full of vintage charm and je ne sais quoi, the French Toile Gigi Apron lends a little touch of Paris that is perfect for any hostess. Constructed from a medium-weight linen/cotton blend, the apron features neck and waist ties for easy adjusting, as well as a convenient and roomy side pocket. A coordinating terry towel hangs from one of the cloth-covered button details, ready to wipe up any errant splatters of béchamel or coq au vin.
Apron measures 33 × 30 inches, excluding ties
Top Strap Length: 31 inches per side
Side Strap Length: 28 inches per side
Influenced by the nostalgic charm of a bygone era, Jessie Steele's retro-chic hostess aprons make a flirty, feminine statement both in and out of the kitchen.