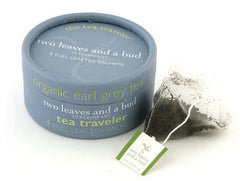 Earl Grey Tea Traveler
organic full-leaf Ceylon tea with bergamot
$ 3.00
two leaves' Earl Grey starts with a great quality, organic large leaf, sweet black tea (not "blending teas") from Ceylon (Sri Lanka). They add just a hint of pure bergamot oil to create the famous Earl Grey taste: robust with a slight tanginess and citrus bergamot finish.
There are many legends of how Earl Grey came into being. One favorite is that the Earl had a shipment of tea that also picked up bergamot oranges and their odor and flavor was absorbed. It was a huge success on the market and a legend was born.
The eco-friendly paperboard canister contains four tea sachets, each of which will brew two cups of tea. Toss a two leaves' Tea Traveler into your bag for travels near and far!
What's inside:
organic Ceylon tea with natural bergamot flavor
The finest teas start with just the very smallest blossoms — the two leaves and a bud of the tea flower. Two Leaves and a Bud uses only whole-leaf premium teas, grown in selective traditional tea regions, using authentic growing methods.