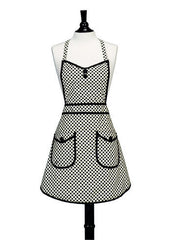 Deco Dot Audrey Apron
$ 30.00
Constructed from a fine, lightweight cotton with an ever-so-slight, satiny sheen, the Deco Dot Audrey Apron features neck and waist ties for easy adjusting, as well as two convenient waist pockets with flaps to help keep errant flour and crumbs out. Contrast bias trims the apron and pocket edges, and button details punctuate the pocket flaps and flattering sweetheart neckline.
Apron measures 33 × 27 inches, excluding ties
Top Strap Length: 28 inches per side
Side Strap Length: 27 inches per side
Influenced by the nostalgic charm of a bygone era, Jessie Steele's retro-chic hostess aprons make a flirty, feminine statement both in and out of the kitchen.