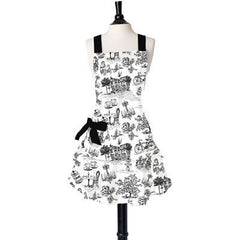 Cafe Toile Josephine Apron
$ 30.00
Heirloom quality Designer Hostess Apron constructed from a fine lightweight blend of 55% linen and 45% cotton for that vintage drape and feel. Ties at neck and waist for easy adjusting. Waist pocket with removable grosgrain bow gives this apron a dressed-up feel that makes it appropriate for not just cooking with the adults, but for any household activity!
Apron measures 30 × 27 inches, excluding ties
Top Strap Length: 26.5 inches per side
Side Strap Length: 27 inches per side
Influenced by the nostalgic charm of a bygone era, Jessie Steele's retro-chic hostess aprons make a flirty, feminine statement both in and out of the kitchen.