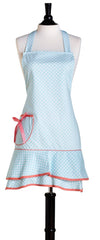 Blue & White Deco Dot Loretta Apron
$ 30.00
Retro chic just hit the kitchen! The Blue & White Deco Dot Loretta Apron harkens back to simplicity and elegance from another era. Constructed from a soft, breathable cotton that sits light on the body, the apron features neck and waist ties for easy adjusting, as well as a convenient waist pocket adorned with a removable coral ribbon bow. Coral bias accentuates the dual-layered skirt, giving it additional feminine flair.
Apron measures 36 x 27 inches, excluding ties
Top Strap Length: 26.5 inches per side
Side Strap Length: 27 inches per side
Influenced by the nostalgic charm of a bygone era, Jessie Steele's retro-chic hostess aprons make a flirty, feminine statement both in and out of the kitchen.