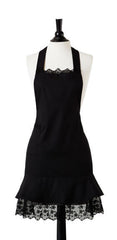 Black Lace Sophia Apron
$ 30.00
Sold out?! Say it ain't so!
Elegant sophistication — the little black dress of aprons. The Black Lace Sophia Apron is just begging to co-host your next gourmet dinner party, dressed up with a string of pearls. Constructed from a fine, lightweight cotton, the apron features neck and waist ties for easy adjusting as well as a convenient waist pocket. Black lace detailing trim the neckline and pocket opening, and a pretty lace layer underneath extends itself a few inches below the apron's hem.
Apron measures 31 × 26 inches, excluding ties
Top Strap Length: 24 inches per side
Side Strap Length: 30 inches per side
Influenced by the nostalgic charm of a bygone era, Jessie Steele's retro-chic hostess aprons make a flirty, feminine statement both in and out of the kitchen.