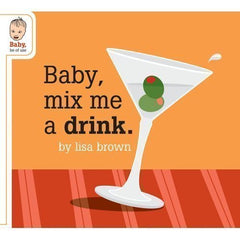 Baby Mix Me a Drink
$ 7.00
By Lisa Brown
Whether it's an Old-Fashioned for Grandpa or a Champagne cocktail for Nanny, this 12-page vibrantly colored instructional board book is suitably scaled and captivating for parents and babies alike.
Too many of us allow our infant sons and daughters to lay about idly: napping, drinking milk, and sometimes "turning over." Why not have them mix you a drink? Tots will be entranced by the shapes and colors, all the while learning how to mix a variety of basic cocktails.
An essential purchase for expectant parents, harried mothers, hungry fathers, and overly involved grandparents.