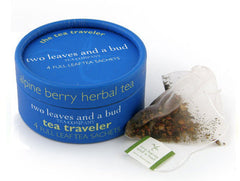 Alpine Berry Herbal Tea Traveler
$ 3.00
two leaves' Alpine Berry Herbal Tea is the perfect complement to a day in the wilderness. With a base of blackberry leaves, strawberry, and raspberry flavors and essences, its flavor is rich, complex, and full — fruity with a slightly tangy top note and a rich citrus finish. The result is an herbal, naturally sweet, and refreshing medley which can be enjoyed both hot in winter or iced in summer. This is a great beverage for kids and adults alike.
The eco-friendly paperboard canister contains four tea sachets, each of which will brew two cups of tea. Toss a two leaves' Tea Traveler into your bag for travels near and far!
What's inside:
hibiscus · apple peel · rosehips · blackberry leaves · orange peel · natural berry flavors
The finest teas start with just the very smallest blossoms — the two leaves and a bud of the tea flower. Two Leaves and a Bud uses only whole-leaf premium teas, grown in selective traditional tea regions, using authentic growing methods.