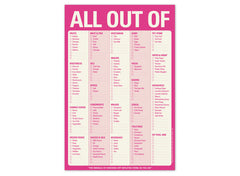 Pink All Out Of Pad
$ 6.50
Who hasn't wandered blindly at the grocery store, trying to remember what to buy? Stick this notepad to your fridge and check things off as you run out, then replenish with ease and certainty when next you shop… just make sure to tear off the sheet and bring it with you. It's a revolutionary concept whose time has come. Be the envy of everybody in the grocery store!
6 × 9 inches, 60 sheets; magnet on back
Knock Knock aims to put the fun back in functional.