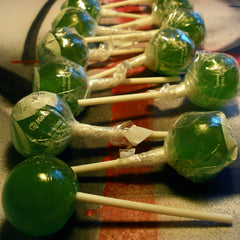 Absinthe Lollipops
$ 2.25 - $ 10.00
Temporarily sold out
Lollyphile's Absinthe Lollipops are really freaking awesome. And we say that without even an ounce of hubris — people go crazy (not like, cut-your-ear-off crazy, though) for them. We're pretty sure they're the ultimate party favor — the combination of absinthe's mystique and the inherent sexiness of lollipops is a pretty explosive one. They have won several awards, and are Lollyphile's best-selling flavor.
Handmade in small batches, each hefty lollipop measures 1.5" across. Ain't no puny Dum Dums here!
Lollyphile strives to make you remember exactly why you threw fits as a child when your parents wouldn't buy you candy, while also gently reminding you that you're perfectly able to buy your own candy now.