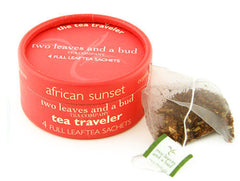 African Sunset Tea Traveler
organic red tea (rooibos) with lemongrass
$ 3.00
Rooibos, or red bush tea, is a great caffeine-free alternative. two leaves' African Sunset brews up rich and lemony with just a hint of lemongrass tang to craft a sweet but interesting flavor: smooth and rich with a slightly tangy top note and sweet citrus finish. Rooibos is also high in anti-oxidants and trace minerals. Red Tea or more literally "red bush" only grows in South Africa where it has a spicy, somewhat astringent herbal flavor, which makes it a great tea alternative.
The eco-friendly paperboard canister contains four tea sachets, each of which will brew two cups of tea. Toss a two leaves' Tea Traveler into your bag for travels near and far!
What's inside:
organic rooibos herbal tea · organic lemongrass · organic lemon peel · natural lemon flavor
The finest teas start with just the very smallest blossoms — the two leaves and a bud of the tea flower. Two Leaves and a Bud uses only whole-leaf premium teas, grown in selective traditional tea regions, using authentic growing methods.