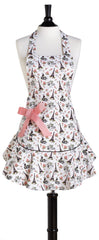 Parisian Toile Josephine Apron
$ 30.00
Ahhh, Paris — city of romance.... The Parisian Toile Josephine Apron will imbue everything you make with an extra hint of love and the air of a shared glass of wine along the Champs-Elysées. Constructed from a fine, lightweight cotton, the apron features neck and waist ties for easy adjusting, while a removable grosgrain bow on the convenient waist pocket adds a playful, flirty touch.
Apron measures 30 × 27 inches, excluding ties
Top Strap Length: 26.5 inches per side
Side Strap Length: 27 inches per side
Influenced by the nostalgic charm of a bygone era, Jessie Steele's retro-chic hostess aprons make a flirty, feminine statement both in and out of the kitchen.