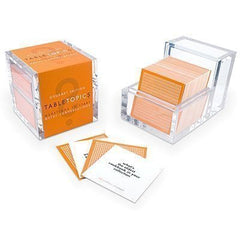 Gourmet TableTopics
$ 25.00
Sold out?! Say it ain't so!
Ahh, the pleasures of good food, good wine and interesting conversation! Use these food and wine themed conversation starters to engage friends over wine and cheese, spice up a four-course meal or as a delightful gift for a deserving foodie friend. It's called Gourmet but it's not stuffy in any way. From questions about your favorite comfort foods, the best barbecue and nouvelle cuisine, it's all in there. It makes the perfect gift for the perfect host or hostess.
What's the most impressive meal you've ever cooked?
Which celebrity chef would you most like to fix you a meal?
Do you have any treasured handwritten recipes?
What's your favorite way to eat chocolate?
What food festival would you love to attend?
What's your favorite knife?
Ages 18 and up
135 Question Cards
4" Acrylic cube